Currently running Master of Science programs "Lasers in Dentistry" (M.Sc. RWTH)
Each module is conducted at RWTH Aachen University and covers an independent topic in which the participants gain an extended knowledge in interdisciplinary fields.
For each successfully finished module the participant is awarded with credit points. These points refer to the European Credit Transfers System (ECTS) which is a standard for comparing the study attainment and performance of students of higher education across the European Union and other collaborating European countries.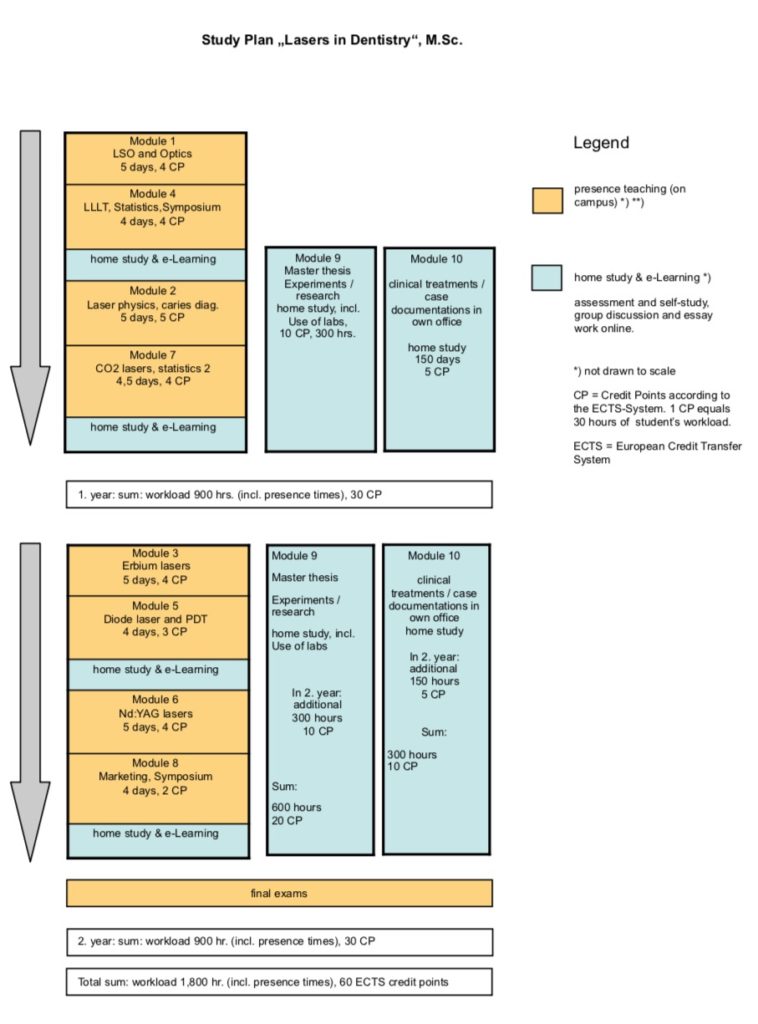 1. Year
Module I
Physics of Light, Laser Safety
Presence: 5 days (40 hrs.)
Home study & e-Learning: 80 hrs.
Student workload: 120 hrs.
Credits (ECTS): 4
Type of examination: Module examination
Module IV
Low-Level-Laser Therapy, Statistics, Literature, Symposia
Presence: 4 days (32 hrs.)
Home study & e-Learning: 88 hrs.
Student workload: 120 hrs.
Credits (ECTS): 4
Type of examination: Module examination
Module II
Physics of Lasers, Caries Diagnostics
Presence: 5 days (40 hrs.)
Home study & e-Learning: 110 hrs.
Student workload: 150 hrs.
Credits (ECTS): 5
Type of examination: Module examination
Module VII
Statistics, CO2 Lasers
Presence: 4,5 days (36 hrs.)
Home study & e-Learning: 84 hrs.
Student workload: 120 hrs.
Credits (ECTS): 4
Type of examination: Module examination
2. Year
Module III
Erbium Lasers
Presence: 5 days (40 hrs.)
Home study & e-Learning: 80 hrs.
Student workload: 120 hrs.
Credits (ECTS): 4
Type of examination: Module examination
Module V
Diode Lasers, Photo Dynamic Therapy
Presence: 4 days (32 hrs.)
Home study & e-Learning: 58 hrs.
Student workload: 90 hrs.
Credits (ECTS): 3
Type of examination: Module examination
Module VI
Nd:YAG Lasers
Presence: 5 days (40 hrs.)
Home study & e-Learning: 80 hrs.
Student workload: 120 hrs.
Credits (ECTS): 4
Type of examination: Module examination
Module VIII
Laser Marketing, Symposium
Presence: 4 days (32 hrs.)
Home study & e-Learning: 28 hrs.
Student workload: 60 hrs.
Credits (ECTS): 2
Type of examination: Module examination
Module IX
Master Thesis
Presence: no presence duty
Student workload: 600 hrs.
Credits (ECTS): 20
Type of examination: Master thesis / oral exam (Disputation)
Module X
Clinical Case Documentations & Final Exams
Home study: 200 hrs.
Student workload: 300 hrs.
Credits (ECTS): 10
Type of examination: Presentation and defense of 10 clinical cases / oral exam
Final exams will finish in September 2022